February 04, 2023 08:00 am
- 05:00 pm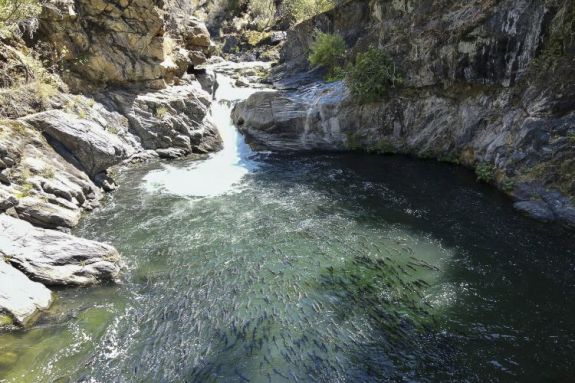 The University of the Pacific McGeorge School of Law and six partnering schools will host a symposium consisting of prestigious water law speakers and practitioners discussing hydropower, agriculture, Indigenous Peoples, and innovation in reconciliation between water supply and species protection. McGeorge School of Law will host the 19th Annual California Water Law Symposium on Saturday, February 4, 2023 in Sacramento, California.
This year's symposium, "Diverse Needs: Species Protection and Water Supply," will run from 8:00 a.m. to 5:00 p.m. PT, in the Lecture Hall at McGeorge School of Law. The event is open to the public and free for students. Attendees have the opportunity to earn up to 5.5 MCLE credits. 
For any inquiries, please feel free to email us at waterlawsymposium@gmail.com. We look forward to having you at the 19th Annual California Water Law Symposium on February 4, 2023.
---
AGENDA
8:00 - 8:45 AM
Check-In & Continental Breakfast

8:45 - 9:00 AM
Welcoming Remarks: Professor Jennifer Harder, McGeorge School of Law
Faculty Advisor, California Water Law Symposium
Symposium Co-Chairs: Alli Cassing, Allison Marcus, & Devynn Azevedo
Presentation of California Water Law Writing Prize
Winner: Nikki Kuklo, 3E student at McGeorge School of Law for "Redesigning the Glass Slipper that is Water Code Section 1707"
Honoring Clifford Lee
Beloved California Water Law Attorney

~ 15 Minute Break ~

9:00 - 9:30 AM
Keynote: Dr. Rene Henery, California Science Director at Trout Unlimited 
 
~ 15 Minute Break ~

9:45 - 11:00 AM
Panel 1 - Hydropower & Species
Organized by: Golden Gate University School of Law & UC College of the Law, San Francisco
Dana Heinrich, Attorney, State Water Resources Control Board
David Rose, Attorney, State Water Resources Control Board
Daniel Cooper, Sycamore Law Group; Co-Counsel San Luis Obispo Coastkeeper
Paul Kibel, Professor, Golden Gate University School of Law; Attorney, Water & Power Law Group [Moderator] 
~ 15 Minute Break ~

11:15 - 12:30 PM
Panel 2 - Indigenous Peoples, Water Rights, & Species Protection
Organized by: University of San Francisco School of Law & UC Davis School of Law
Stephanie Safdi, Supervising Attorney, Stanford Environmental Law Clinic
Kate Poole, Senior Director, Water Division, Nature Program, NRDC
Andrea Carmen, Executive Director, International Indian Treaty Council
Morning Star Gali, California Tribal Liaison, International Indian Treaty Council
Marianna Aue, State Water Resources Control Board, Office of the Chief Counsel
Margaret Vick, Professor, McGeorge School of Law [Moderator]
12:30 - 1:15 PM
Lunch

1:15 - 2:30 PM
Panel 3 - Agricultural Land Repurposing: A Gentler Way to Reform Agricultural Water Use
Organized by: UC Berkeley School of Law & Stanford Law School
Vicky Espinoza, Strategic Restoration Project Manager, The Nature Conservancy
Keali'i Bright, Deputy Secretary Climate & Energy, CA Natural Resources Agency
Rebecca Smith, Partner, Downey Brand, LLP
Felicia Marcus, Stanford University Water in the West Program Fellow; Attorney, Water Policy Group [Moderator]
~ 15 Minute Break ~

2:45 - 4:00 PM
Panel 4 - Innovations in Accommodating Water Supply and Species Protection
Organized by: University of the Pacific, McGeorge School of Law
Shannon Little, Attorney, Department of Fish & Wildlife
Sarah Null, PhD, Associate Professor of Watershed Sciences, University ​of Utah
Ada Fowler, PhD, Mt. Shasta/Klamath Project Manager, Cal Trout
Kelly Taber, Attorney, Somach Simmons & Dunn
​Kaitlin Harr, Attorney, Kronick Moskovitz Tiedemann & Girard

​4:00 - 5:00 PM
Reception 
Add to Calendar
2023-02-04 08:00:00
2023-02-04 17:00:00
19th Annual California Water Law Symposium
The University of the Pacific McGeorge School of Law and six partnering schools will host a symposium consisting of prestigious water law speakers and practitioners discussing hydropower, agriculture, Indigenous Peoples, and innovation in reconciliation between water supply and species protection. McGeorge School of Law will host the 19th Annual California Water Law Symposium on Saturday, February 4, 2023 in Sacramento, California. This year's symposium, "Diverse Needs: Species Protection and Water Supply," will run from 8:00 a.m. to 5:00 p.m. PT, in the Lecture Hall at McGeorge School of Law. The event is open to the public and free for students. Attendees have the opportunity to earn up to 5.5 MCLE credits.  For any inquiries, please feel free to email us at waterlawsymposium@gmail.com. We look forward to having you at the 19th Annual California Water Law Symposium on February 4, 2023. AGENDA 8:00 - 8:45 AM Check-In & Continental Breakfast8:45 - 9:00 AMWelcoming Remarks: Professor Jennifer Harder, McGeorge School of Law Faculty Advisor, California Water Law Symposium Symposium Co-Chairs: Alli Cassing, Allison Marcus, & Devynn AzevedoPresentation of California Water Law Writing Prize Winner: Nikki Kuklo, 3E student at McGeorge School of Law for "Redesigning the Glass Slipper that is Water Code Section 1707"Honoring Clifford Lee Beloved California Water Law Attorney~ 15 Minute Break ~ 9:00 - 9:30 AMKeynote: Dr. Rene Henery, California Science Director at Trout Unlimited    ~ 15 Minute Break ~ 9:45 - 11:00 AMPanel 1 - Hydropower & SpeciesOrganized by: Golden Gate University School of Law & UC College of the Law, San Francisco Dana Heinrich, Attorney, State Water Resources Control Board David Rose, Attorney, State Water Resources Control Board Daniel Cooper, Sycamore Law Group; Co-Counsel San Luis Obispo Coastkeeper Paul Kibel, Professor, Golden Gate University School of Law; Attorney, Water & Power Law Group [Moderator]  ~ 15 Minute Break ~ 11:15 - 12:30 PMPanel 2 - Indigenous Peoples, Water Rights, & Species ProtectionOrganized by: University of San Francisco School of Law & UC Davis School of Law Stephanie Safdi, Supervising Attorney, Stanford Environmental Law Clinic Kate Poole, Senior Director, Water Division, Nature Program, NRDC Andrea Carmen, Executive Director, International Indian Treaty Council Morning Star Gali, California Tribal Liaison, International Indian Treaty Council Marianna Aue, State Water Resources Control Board, Office of the Chief Counsel Margaret Vick, Professor, McGeorge School of Law [Moderator] 12:30 - 1:15 PMLunch1:15 - 2:30 PMPanel 3 - Agricultural Land Repurposing: A Gentler Way to Reform Agricultural Water UseOrganized by: UC Berkeley School of Law & Stanford Law School Vicky Espinoza, Strategic Restoration Project Manager, The Nature Conservancy Keali'i Bright, Deputy Secretary Climate & Energy, CA Natural Resources Agency Rebecca Smith, Partner, Downey Brand, LLP Felicia Marcus, Stanford University Water in the West Program Fellow; Attorney, Water Policy Group [Moderator] ~ 15 Minute Break ~ 2:45 - 4:00 PMPanel 4 - Innovations in Accommodating Water Supply and Species ProtectionOrganized by: University of the Pacific, McGeorge School of Law Shannon Little, Attorney, Department of Fish & Wildlife Sarah Null, PhD, Associate Professor of Watershed Sciences, University ​of Utah Ada Fowler, PhD, Mt. Shasta/Klamath Project Manager, Cal Trout Kelly Taber, Attorney, Somach Simmons & Dunn ​Kaitlin Harr, Attorney, Kronick Moskovitz Tiedemann & Girard ​4:00 - 5:00 PMReception 
3200 5th Ave, Sacramento, CA 95817, USA
McGeorge School of Law
McGeorge School of Law
America/Los_Angeles
public
3200 5th Ave, Sacramento, CA 95817, USA
McGeorge School of Law