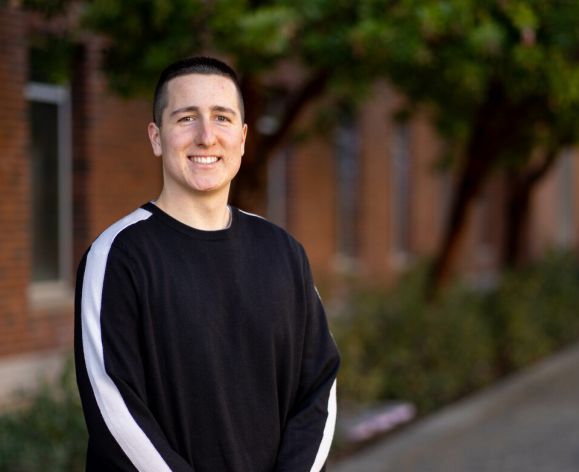 Outstanding Student
Owen Scott
Major: Mechanical Engineering (BS Mechanical Engineering/MS Engineering Management Dual-Degree Program)
Graduation Year: 2026
Hometown: Ripon, CA
Experiential Learning: Solar Car Club, undergraduate research
In his first year at Pacific, Owen Scott has hit the ground running. From joining an undergraduate research team to building a solar-powered car with fellow engineering students, Owen is already gaining valuable experiences in and out of the classroom to prepare for his future career in mechanical engineering.
When you were applying to colleges, what made Pacific stand out to you?
The cooperative education experience (CO-OP) program caught my eye and was one of the reasons I chose Pacific. During your third year, students get workforce experience while receiving college credit. The CO-OP allows us to learn and grow in areas beyond what you learn in a classroom.
Also, I met with professors during Pacific events like Admitted Student Day. They were welcoming and genuinely interested in me and my goals. From the first day of classes, I could tell that the professors were invested in my success and willing to support me along the way.
What's unique about Pacific's mechanical engineering program?
Unlike other institutions, you are immediately put into engineering classes during your first couple of years. General education classes are built into your schedule with your engineering courses, and even if they are difficult, professors are there to guide you along the way. It helps you stay interested in your major and allows you to study your field right away.
My foundational courses taught by Professor JuEun Lee, the department chair of mechanical engineering, are making me excited for my future at Pacific. I had been stuck on what to choose for my discipline until Professor Lee introduced an energy industry concentration. This aligned with my interests in the energy field and learning how to harness energy in different mechanical systems.
As a first-year student, you're already involved in undergraduate research. How has that experience been for you?
I am researching bone drilling techniques in orthopedic surgery for biomedical purposes with Professor Lee. The experience is priceless, and I know I will gain knowledge from this research that will give me an edge in my future career.
My professors have stressed that if you want to participate in undergraduate research to simply reach out. Even if you are a first-year, they still want to work with and accept you into their research.
What other experiential learning opportunities have you had as Pacific so far?
I am in the Solar Car Club that started in Fall 2022. It's a student-run club composed of all different types of engineers. To build the car, we are starting from scratch from the chassis all the way to putting on the solar panels. Professor Dongbin Lee, who is an assistant professor in the School of Engineering and Computer Science and electrical engineer, is our main adviser who we go to for advice and to present our findings. The whole process has been amazing, and we've all learned so much. Our goal is to complete the car before the beginning of the Fall 2023 semester.
What advice do you have for incoming students?
In my first semester, coming into Pacific, I was kind of nervous and wasn't sure what to expect. But from the first day of classes, just remember that the professors are there to help you. They want you to learn. They want you to succeed.