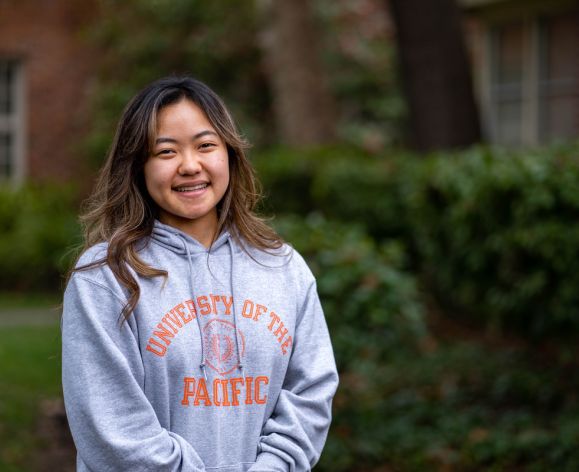 Outstanding Student
Calista Morita
Major: Mechanical engineering (BS/MS Mechanical Engineering Dual-Degree Program)  
Graduation year: 2024 
Hometown: Lodi, California 
Extra-curriculars: Society of Women Engineers, Nikkei Student Union (Japanese cultural club) 
Calista Morita joined Professor JuEun Lee's biomechanics lab as an undergraduate. Now, working toward her master's in mechanical engineering through Pacific's dual-degree program, she's been able to dive deeper into those topics as a graduate student researcher. She says the experience has inspired her to explore opportunities in the medical field: "I would love to work on medical devices or even product design...there's kind of unlimited options, you know?" 
What inspired you to study mechanical engineering? 
I was always really fascinated by science and engineering and the fact that people can create things and innovate. I was always really interested in building stuff, so I always knew I was going to do engineering. When I looked into different sectors, mechanical engineering caught my eye due to the machinery and robotics, and the broad range of careers mechanical engineers can go into. 
What kinds of careers can mechanical engineers go into and what are you most interested in? 
Mechanical engineers can go into aerospace, manufacturing, robotics and even the medical field. I'm actually doing research here at Pacific under Dr. JuEun Lee, and she looks at biomechanics and drilling into bone. She works with surgeons and with our dental school, so it's kind of neat that an engineer can fit into that medical area. I would love to work on medical devices or even product design; that'd be cool. There's kind of unlimited options, you know? 
How did you originally get involved with research? 
Dr. Lee just asked me if I wanted to join her team. That's the cool thing about Pacific: the class sizes are really small, so you really get to know your professor by working alongside them in class and going to office hours. You build a relationship. 
I joined Dr. Lee's lab when I was an undergrad. Then I ended up doing the dual-degree program, which is an accelerated program, so you only do one extra year of school to get your masters. So now I'm actually doing graduate research under Dr. Lee as well. So, I got double research! 
How does the dual degree program work? 
I'm taking my undergrad courses alongside my graduate courses, so the last two semesters, I mostly took my undergrad courses with one graduate course. It's been really nice because you don't have to do everything all at once to simultaneously get your bachelor's and your master's degrees. 
What projects that you've done at Pacific have had the biggest impact on you?  
I took a manufacturing class in undergrad coursework where we learned how to do hand manual machining, so the mill and the lathe, and then we touched on the computer numeric control (CNC) machine.  
Then I took a graduate course that was based on computer-aided manufacturing, so that's where we really got to dive into projects on our own without supervision and really learn how to use the CNC machine. 
We also got to design our own lab. We created our own experiment in fluids, so we got to fabricate and design our own experiment and share with our class. We had to create our own materials, so it was very hands on. I learned how to use a lot of machinery and software. 
Why is having hands-on experiences so important in mechanical engineering?  
It definitely builds confidence. It's nice to have on your resume that you know how to use certain equipment. Everybody goes to school to learn, and we all take pretty much the same classes, so when you get that extra hands-on experience, you feel more confident when you go into a job interview. 
Do you have any advice for incoming students? 
Definitely get to know your classmates, because you are going to see them a lot. In the engineering department, once you get past your first year, you're kind of with the same group of people, so you build this really good bond. It's really nice because outside of class you can always get help, and we all hang out. It's a really close-knit group of engineers, and that also helps with networking. You'll have a much better experience when you know you have friends in the engineering department.